Welcome to Catalytic, blog to share questions about Education. This time we will answer questions and at the same time we will discuss the following questions: Media to promote entrepreneurial products is called what ?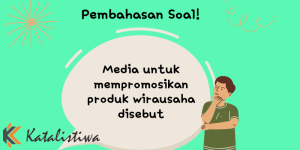 Question: Media to promote entrepreneurial products is called
Choose one of the correct answers below, the question is the media used to promote the product is ..
a. advertisement
b. sign
c. picture
d. sketch
Answer: The promotional media for entrepreneurial products is called REKLAME (A).
Discussion of the media used to promote the product
Advertisement Advertisements are defined as visual communication media whose contents contain promotions or advertisements for products or services aimed at the wider community. Regarding the reference to the large Indonesian dictionary, the meaning of billboards is notification to the general public about goods with interesting words and pictures for sale. KBBI advertising is equated with the word billboard.
Advertisements has certain characteristics, namely:
Placed in places that can be accessed by many people.
Sentences are short due to lack of space, but clear, not long and full of information.
The sentences are easy to understand.
Honest. Even if they contain advertisements or promotions, the contents of the advertisements must also be based on honesty so that those who are pressured to buy do not feel cheated.
Interesting because it is usually combined between image text and color harmony.
Answer Details Media used for promotion
Class : 6 SD
Subject : Thematic (Indonesian Content)
Chapter : Theme 4 Advertisements & Their Features
Code : –
#AyoLearn
This is the discussion that we have compiled from various sources by the team Catalytic . May be useful.