Welcome to Catalytic, a blog to discuss the discussion of subject matter from Higher Education, High School, Middle School and Elementary Schools. This time, Katalistiwa will discuss a question that is often asked in school exams. The questions are: The Human Excretory System Aims To Excrete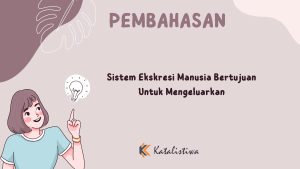 The Human Excretory System Aims To Excrete
A. Faeces from digestion
B. residual substances that can still be used by the body
C. enzymes and hormones from inside the body
D. metabolic waste substances that cannot be used by the body
Answer :
The answer is  D. metabolic waste substances that cannot be used by the body
Detailed discussion of the Human Excretory System
The human excretory system aims to remove metabolic waste products that cannot be used by the body, such as urine from the kidneys, sweat from the skin, bile from the liver and CO2 and H2O (water vapor) from the lungs.
Human excretory organs
The skin on the excretory system functions to remove waste products metabolism in the form of sweat. The sweat glands function as a thermoregulator which removes excess heat from the body. When the air is cold, the capillaries contract and only a little heat is released so that the skin sweats a little, and vice versa when it is hot. The skin consists of 3 layers, namely the epidermis, dermis, and connective tissue under the skin (hypodermis).
Kidneys play a role in the process of urine formation. Serves to filter metabolic waste that enters the blood, maintains the balance of body fluids, removes excess blood sugar in the body and regulates the balance of acid, base and salt levels in the body. The kidneys produce antidiuretic hormone (ADH) which plays a role in regulating water absorption. When the air is cold, hormones are produced a little. Therefore, the absorption of water is low so that a lot of urine is produced, and vice versa when it is hot.
The process of urinating
The process of urine formation takes place in the kidney nephrons.
Pictures of kidney nephrons and their parts are in the appendix.
Filtration: filtration that occurs in the glomerulus and produces primary urine.

Reabsorption: reabsorption of substances that are still needed by the body and produce secondary urine.

Augmentation: the actual formation of urine that occurs in the Distal Convoluted Tubule (TCD) and Collecting Tubule (collector) for temporary storage.
The process of excreting urine
Urine produced by the kidney nephrons will collect in the cavity of the kidney. Then urine flows through tubes called ureters to the bladder. Furthermore, urine in the bladder will be removed from the body through the urethra.
The lungs are protected by a thin membrane called the pleura. The lungs in the excretory system function to expel residual gases from the breathing process, namely CO₂ (carbon dioxide) and H₂O (water vapor).
 The liver in the excretory system functions to excrete bile, which is a residual substance from repairing red blood cells that have been damaged and destroyed in the spleen.
The human excretory system aims to get rid of metabolic waste products that the body cannot use. The excretory organs are the skin which produces sweat, the kidneys which produce urine, the lungs which produce CO₂ and H₂O (water vapor) and the liver which produces bile.
Question Details
Grade 9
Subject: Biology
Material: Excretory System in Humans
Keywords: Excretory organs and their functions, diseases of the excretory system, urine content test reagents.
This is the discussion that we have summarized by the Katalistiwa.id Team from various learning sources. Hopefully this discussion is useful, don't forget if you have other answers, you can contact the admin. Thank you