Usually people who want to buy or sell used cars will use newspapers to advertise. But did you know that the price of advertising in newspapers is quite expensive? Not to mention having to wait a few days for your ad to appear in the paper. Why not use Used Car Selling Application just?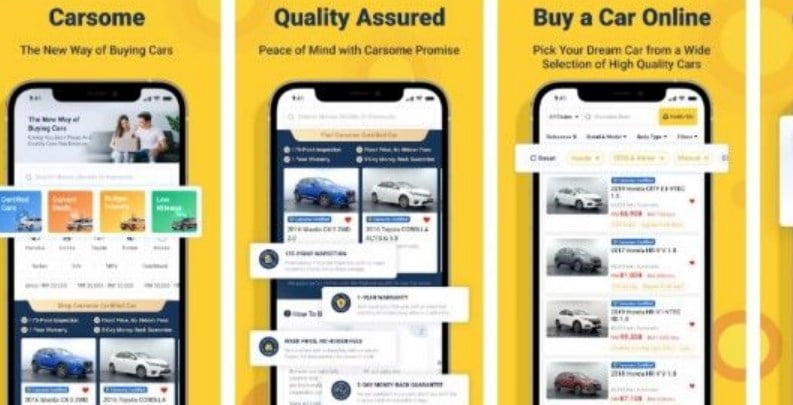 In this digital era, there are several used car sales applications that are useful for buying and selling used vehicles. In fact, most of these apps allow users to advertise for free. Curious about the best used car sales application in Indonesia? Come on, take a peek at the list below!
13 Trusted Used Car Selling Applications in Indonesia
1. Mobil123
Based on the Mobil123.com website, currently the largest and most trusted automotive portal site in Indonesia has been developed into a Used Car Selling Application. In fact, you can install the Mobil123 application on your smartphone. There are more than 200 thousand vehicle ads for sale in this application.
Not only that, Mobil123 also provides complete information ranging from price, year, seller's location, vehicle mileage and other important information. As a buyer, you don't need to worry because Mobil123 only provides a place for trusted and verified sellers.
2. Carmudi
Are you looking for a private car, pickup truck or used truck? You can take advantage of Carmudi, an application that has received a 4.3 rating on the Play Store. For those of you who want to sell cars and motorbikes, you can also benefit from this application. It only takes 2 minutes and the vehicle you are selling will be seen by thousands of potential buyers through this car buying and selling application.
Not only that, Carmudi also provides vehicle reviews and the latest car information. Carmudi not only provides used cars, but this application that has been installed 5 million times also provides new cars. Used Car Selling Application
3. OLX
Who doesn't know OLX? The pioneer of online buying and selling sites in Indonesia is now available in the form of an application for users to access OLX more easily. Various types of goods are sold on OLX, including cars. Therefore, Carisignal also recommends OLX as a fairly complete car buying and selling application.
You can find various types of cars here. Find your dream car with the right price, color, brand and specifications on OLX. The simple interface also makes this application usable by anyone.
4. Auto2000
Unlike the two applications that we discussed earlier, Auto2000 is a used car sales application developed by PT Astra Internasional to provide convenience to Toyota vehicle owners. What facilities are in this application?
Auto2000 provides up-to-date information on Auto2000 dealers spread throughout Indonesia, product catalogs about new Toyota cars, information on Auto2000 dealer locations and ordering services. This application will be very useful for you Toyota car owners.
5. Buy and Sell KASKUS
KASKUS, is known as one of the forums that has many users from various regions in Indonesia. However, it turns out that KASKUS is not just for discussion. Because KASKUS also provides stalls for buying and selling goods.
One of the stalls that can be traded is buying and selling cars. That's why KASKUS is included in the category of buying and selling cars. Here you can find the car of your dreams at a friendly price. You can also negotiate with the seller. Will? Download the app here.
6. OTO.com
The OTO Used Car Selling Application is also one of the most complete and trusted car buying and selling applications. In this application you will be presented with various car brands such as Daihatsu, Toyota, Honda, Nissan and many more. In addition to having different car brands, you can also choose a car based on dealers in cities in Indonesia.
In fact, the list of dealers in this application is not only limited to Indonesia, because OTO also has a list of several dealers abroad. Please note that there are more than 1000 authorized dealers registered on OTO.com. So it is definitely reliable and safe.
7. Bukalapak
The Bukalapak Used Car Selling application recently introduced a new feature, buying and selling cars. Yes, Bukalapak is not only for buying clothes, credit, and other primary needs, because now you can buy cars at Bukalapak. It's easy, just download the Bukalapak application and select the BukaMobil feature.
The advantages of buying a car on Bukalapak are also very many, you can get discounts and the car warehouse is guaranteed to always be available. In fact, there is a 100% money back guarantee. In fact, you can also make payments in installments. How, interested in buying a car at Bukalapak?
8. garage24.com
One of the best used car buying and selling websites in Indonesia is garage24.com. Why? Because this website has a simple and good appearance. Buyers can easily find the car they are looking for. In fact, in every corner of the ad there is a price quote.
However, if you are a used car seller, you must register first to be able to place an ad on this page. Don't hesitate to register at garage24.com because this website does not charge any fees. You can freely advertise your vehicle through this page.
9. otosia.com
Are you having trouble selling your used car? Why not try advertising a car on otosia.com? This is an automotive news portal that also offers vehicle buying and selling facilities. Not only selling used or new cars, on this site you can also sell or search for motorcycles.
This website also provides news and tips about the automotive world. Want to check the latest car prices at the dealer? You can do this through otosia.com.
Installing car sales ads is made easier with this best car buying and selling application in Indonesia. Well, are you looking for a new car or intend to sell your old car? Please select an application or website that is a Used Car Selling Application.
10. Trovit
Then there's Trovit if the app is made overseas. So it's only natural that the price of the car offered is in dollars. Although coming from abroad, the cars sold are quite different. There are standard-priced cars that are also super expensive.
In addition to a fairly complete car collection, Trovit also provides features that make it easier for buyers. To find your dream car, you can search by car brand, price, city and country where the car is sold. So that it is easier for you to get your dream car at the right price and not far from where you live.
11. Rajamobil.com
Like Mobil123, this car buying and selling site also comes from a car portal that makes it easy for users to buy and sell new and used cars. In fact, this site also provides credit and insurance simulations for prospective car buyers at Rajamobil.com.
To complete the user's insight, this application also adds the latest news about the automotive world. News is presented complete with supporting photos or videos. Car buying and selling activities have become easier since Rajamobil.com, you can choose your favorite car through the website here.
12. Carsome
While this is not a Used Car Selling App, you can still choose the car of your dreams by visiting the Carsome website. This page makes it easy for you to choose the car you want to buy. At Carsome you can not only buy cars, you can also sell cars. Don't worry, all transactions on Carsome are transparent and easy. If you are interested, you can visit here.
13. mobile.id
Like Carsome, momobil.id can also be one of the best choices for those of you who want to buy a new car or a used car. Here you can see live by price, car brand, year of car, and even select the location of the house for car sales.
Another advantage that momobil.id offers is that you can buy a car in installments. Interestingly, you can also exchange cars, simply by filling in your personal data, the car you own and the car you want to exchange. Very easy isn't it?
14. Automart
Do you want to buy a car? Then you can also visit the Otomart website, where you can choose your dream car based on the brand, model, type of car, and also domicile. Otomart also offers a feature to search for cars by price, so you can tailor your car purchase to your budget.
If you want to be more confident, you can also choose a car based on official car dealers spread throughout Indonesia. If you want to buy a used car, you can directly check at Otomart, because this site also provides stalls for used cars that are still smooth.
15. mobilbekas.co.id
Open the best and fastest browser application from your smartphone and visit the mobilbekas.co.id site. On this page you can find quality used cars at different prices. Do a car search by year, brand, type, price and region through this website.
Are you one of those people who want to sell used cars on this site? It's easy, you just visit mobilbekas.co.id and register to register and advertise your car. Then wait for prospective used car buyers to contact you for negotiations or transactions.
If you have recommendations for other Used Car Selling Applications, please write your recommendations in the comments column!