Welcome to catalyst, blog to discuss about the discussion of subject matter from Higher Education, High School, Middle School and Elementary Schools. This time, Katalistiwa will discuss a question that is often asked in school exams. The questions are: The following are included in biotechnology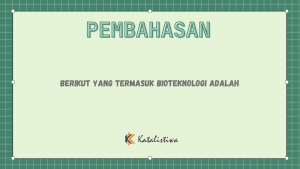 The following are included in biotechnology
a. Utilization of soybeans to make tofu.
b. Utilization of bacteria for composting.
c. combines the two properties of plants by means of grafting.
d. Utilization of bacteria to make acetic acid
Answer :
The correct answer is d. Utilization of bacteria to make acetic acid
Detailed discussion of Biotechnology
Traditional biotechnology is biotechnology that uses microorganisms as a means of production product food and Drink. Modern is the utilization of living things that produce goods and services by using genetic engineering in the form of recombinant DNA.
Acetic acid or acetic acid (CH₃COOH) is an example of a product produced by fermentation with Acetobacter bacteria.
Another example is the production of tempeh and yogurt.
Tempe is made from fermented soybeans using the fungus Rhyzopus oligosporus.
Yogurt is a dairy product that is processed by fermentation, which is carried out by the bacteria Lactobacillus bulgaricus and Streptococcus thermophilus.
Question Details
Class: IX
Subjects: Biology    
Material: Chapter 7 – Biotechnology
This is the discussion that we have summarized by the Katalistiwa.id Team from various learning sources. Hopefully this discussion is useful, don't forget if you have other answers, you can contact the admin. Thank you