Welcome to Catalytic, blog to share questions about Education. This time we will answer questions and at the same time we will discuss the following questions: What is Koda Resolution Complications Orientation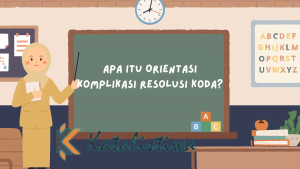 What is Koda Resolution Complications Orientation
Be it Orientation, Complication, Resolution and Coda are structures derived from fable story texts. Here's what each means.
Detailed Discussion of Coda Resolution Complications Orientation
ORIENTATION: is the initial introductory stage of the storyline. The orientation of the fable text contains the introduction of characters, background or atmosphere environment story, setting when and also the setting of the area.
COMPLICATIONS: means the culmination of the storyline. Complications contain the zenith of conflict experienced by the characters in the story.
RESOLUTION: means the part of the story that contains the way out that si figure on solving the problem.
KODA: is the final part of the text of the fable. This coda can be in the form of a message or message to be conveyed to the reader through the text of the fable.
This is the discussion that we have compiled from various sources by the Katalistiwa team. May be useful.