Welcome to Catalytic, a blog to share questions about Education. This time we will answer questions and at the same time we will discuss the following questions: Short Stories About Boots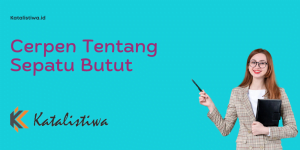 A Short Story About Old Shoes
Freely continue the short story "5epatu Butut". The plot that is cut is the one that leads to the climax: throw away the old shoes or not. Whatever the decision and how to do it next determine how the story ends.
Let's discuss together the answers to short story questions about boots
Bad Shoes
(Short story by Ely Chandra, Wind-wind)
(orientation)
I don't know how many times I asked him to change his shoes. If the shoes can still be worn, it's probably okay. But the shoes looked very worn out, far from fit to wear. Although our parents are not rich people. but I think they can still afford Andi a new pair of shoes that are more durable.
I don't know why either. I'm the only one who always pays attention to Andi's shoes. The shoes interfere with my vision. Our parents never protested when Andi put those old boots on again.
(chain of events)
Tomorrow we go to school. Again, it's the old shoes that I have my eye on. There's nothing else that I noticed from Andi. I'm too lazy to go with him. I'm ashamed to have to go with him. Like walking with gembeel.
Those old shoes really bother me, why didn't Andi ask for new shoes cool like his friends, Ivan in his sneakers or like Dodi in his sneakers?
One night I thought about getting rid of the old shoes. I'll throw it out Saturday night because I know he'll be washing it on Sunday. So if Sunday is not met, there is still a new buy option so you can still enter on Monday.
Of course, getting rid of old shoes doesn't require an elaborate plan. it's quite simple, i can definitely do it, just wait for Andi to sleep at night and then i will do the mission. The day I've been waiting for has arrived. Immediately I prepared to carry out my mission. I saw that Andi was not at home.
(complications)
I forgot that Andi went to play football in the field near the house. Her shoes weren't even in the shoe rack. If the old shoes had not been brought, I would probably have thrown them away. And when Andi asked where his shoes were, I could reply that a rat had stolen them or picked up a passing scavenger.
"Mom," Andi said softly from behind me. I was shocked to hear that as I imagined a suitable scenario to drop his shoe.
"Just got home huh?" I half stuttered and looked at the worn shoes he was holding.
"Yes. Dodi's shoes are broken, ma'am. Let's go for a walk," he said while cleaning his shoes from the dirt that had stuck to them.
Suddenly there was a feeling of wanting to ask Andi why he liked his shoes so much.
"Well, may I ask a question? Why didn't Andi ask mom and dad for new shoes? These shoes are dull in color. The soles of his shoes are thin. And the coating also peels off. Isn't Andi ashamed to wear it?" I asked curiously.
"Oh mother. Did you forget the story about these shoes? These are the shoes my grandmother bought before she died. Just then grandma came home from the hospital. On the way home, grandma passed by a shoe shop. difficulties, grandma still chooses shoes for Andi. How can Andi replace it with another one, ma'am?" he said, looking down at his boots.
Like someone strangled my chest. Almost two years ago, my mother bought these shoes. Mom said she really wanted to buy some shoes because Andi's old shoes weren't enough anymore. Without noticing, there was a pool of water in my eyes.
(resolution)
"If Andi wants to buy new shoes, Andi will, Mom. But let Andi keep these shoes after washing them, Mom. Andi knows why you are uncomfortable seeing Andi wearing these shoes, because they are worn out," Andi asked.
"Yes India. Can. It doesn't matter. Later the shoes are washed and then stored in a dry place. So that it doesn't get moldy easily, "I said touched.
"Thank you, Mom," Andi said with a smile.
Detailed Answers to the Short Story of Booted Shoes
Class: IX
Subject: Indonesian
Chapter: Composing Short Stories (Chapter 3)
This is the discussion that we have compiled from various sources by the Katalistiwa team. May be useful.