Welcome to Catalytic, blog to share questions about Education. This time we will answer questions and at the same time we will discuss the following questions: Pancasila as the basis of the state is used to
Pancasila as the basis of the state is used for
A. the basis for regulating the administration of state government
B. the foundation of national and state life
C. develop development programs
D. determine the country's goals
2. The PKI revolt on September 30, 1965 was aimed at
A. to establish the Islamic state of Indonesia
B. replacing Pancasila with a conservative ideology
C. break away from the unitary state of the Republic of Indonesia
D. against the Soviet state in Indonesia and replace Pancasila with communist ideology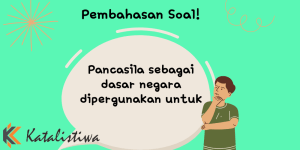 3. If the general election is held Indonesia If it can be held in accordance with Pancasila, then Pancasila has functioned as a…
A. the basis of citizen participation
B. the basis for granting regional autonomy
C Foundation for the formation and establishment of the state
D. The basis for state administration activities
4. The follow-up of efforts to implement Pancasila is….
A. understood, understood correctly, and lived and ensured daily life
B. is understood and understood by every Indonesian citizen
C. is a science that needs to be developed
D. As a teaching that needs to be learned
5. The positive attitude according to Pancasila values is….
A. be patient to accept trials and never give up in various lives
B. always ask for a reward after doing something
C. obey and obey all orders of superiors
D. likes to get compliments from others
6. As the basis as well as the goal, namely the realization of a just and prosperous Indonesian society physically and mentally, is the meaning of Pancasila which contains values.
A. Justice
B. divinity
C. humanity
D. persuasion
7. The ideology of communism is contrary to the values ​​of Pancasila because communism teaches….
A. atheism C. individualism
B. the principle of freedom D. nationalism
8. The meaning of Pancasila as an open ideology is ideology
A. cannot be integrated with the times
B. can interact with the times
C. contains the spirit of nationalism
D. contains work spirit
9. As the basis of the state, Pancasila will never go through other ideologies to replace other words. Movements/rebels who are trying to replace the Pancasila state basis include:
A. Free Papua Organization (OPM)          C. Ganefo
B. Separatist Movement D. G30SPKI Rebellion
10. Corruption is a serious problem facing this nation. Corruption is behavior that is not in accordance with the values of Pancasila, namely…
A. disciplined and uncompromising C. willing to sacrifice
B. unity and integrity D. honesty
Question Answer

Pancasila state basis is used to
A.
D.
D.
A.
A.
D.
A.
B.
D.
B.
Discussion
Question

 Pancasila is used for
Pancasila as the basis of the state is used to…

basic arrangements for the administration of state government

The PKI rebellion on September 30, 1965 was aimed at

D. re-establishing the Soviet state in Indonesia and replacing Pancasila with the communist ideology

If general elections in Indonesia can be held in accordance with Pancasila, then Pancasila has functioned as a…

the basis for state administration activities

Continuation of efforts to implement Pancasila is ....

understood, understood correctly and lived and blessed in everyday life

A positive attitude towards Pancasila values is….

patient to accept trials and never give up. in a different life

As a basis and as a goal, namely the achievement of a just and prosperous Indonesian society from the outside and inside, is the meaning of Pancasila which contains values

D. Union

The ideology of communism is contrary to the values of Pancasila because communism

teach atheists  
Understanding Pancasila as an open ideology is an ideology

can interact with the times

As the basis of the state, Pancasila will never be replaced by another ideology. Movements/rebellions that want to replace the Pancasila state basis include D. G30SPKI Rebellion

Corruption is a serious problem facing this nation. Corruption is behavior that is not in accordance with the values of Pancasila, namely B
This is the discussion that we have compiled from various sources by the team Catalytic . May be useful.