Welcome to Catalytic, blog to share questions about Education. This time we will answer questions and at the same time we will discuss the following questions: What does the apostle uswatun hasanah mean?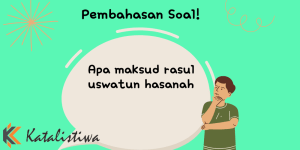 What does Rasulullah Uswatun Hasanah mean?
uswatun hasanah is a good example
the meaning of the Rosul is uswatun hasanah, namely the Rosul who is a good role model for all of us
and who is Rosul uswatun hasanah? Rosul uswatun hasanah is Your Majesty Prophet Muhammad SAW
Discussion :
As the word of Allah sura al-ahzab verse 21
لَقَدْ كَانَ لَكُمْ فِي رَسُولِ اللَّهِ أُسْوَةٌ حَسَنَةamp
Meaning: Indeed, in (self) Rasûlullâh is a good role model for you (namely) for those who hope (grace) Allah and (the arrival of) the Day of Judgment and He mentions Allah a lot
In paragraph It contains the intention of instructing us to emulate the Prophet Muhammad in:
Patience,
patient effort,
istiqomah,
Struggle, and
His waiting for help from Allah
Apart from that, in the Prophet Muhammad SAW there is also a role model (uswatun hasanah) words, deeds and self-statements
This is the discussion that we have compiled from various sources by the team Catalytic . May be useful.