The government has 11 Free Doctor Consultation Application serving 24 Hours to provide free services to COVID-19 patients with mild symptoms who are undergoing self-isolation (isoman). The 11 digital health consulting services that partner with the government are Alodokter, Getwell, Good Doctor, Halodoc, Klik Doctor, KlikGo, Healthy Link, Milvik Dokter, ProSehat, SehatQ and YesDok.
The telematics application can be accessed free of charge by the general public who need a doctor's advice for the correct instructions on the use of drugs or vitamins when doing isoman at home. In addition, these 11 telemedicine services also provide medicines in accordance with the mandate of the Ministry of Health. 
Covid-19 patients with mild symptoms do not need to go to the hospital and can immediately access and receive medical services. The following is a list of 11 telemedicine doctors and the types of services provided, summarized from various sources:
Alodokter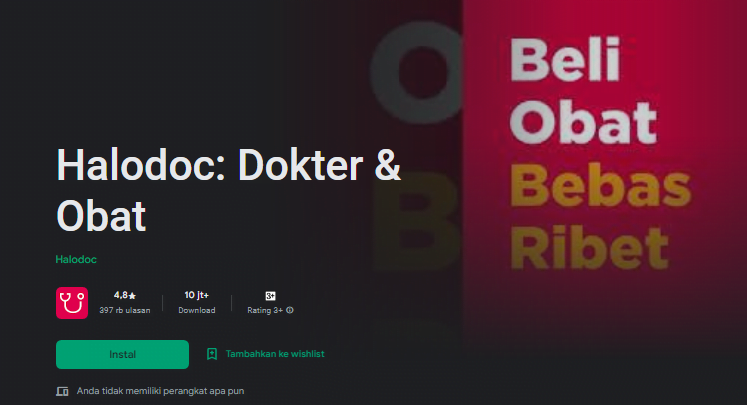 This application can be accessed via Android or iOS. Alodokter not only offers free consultations but also medicines. 
This platform will offer drug packages according to patient classes such as asymptomatic, mild or moderate. These drugs can be redeemed at all Kimia Farma pharmacies. If the patient's symptoms are not included in the package provided by the government, the patient can change the drug at the nearest pharmacy. Alodokter offers 30 doctors who specialize in Covid-19 patients in 24-hour reality. 
ClickDoctor
This application provides consultation services with doctors. After that, the doctor will diagnose the disease based on the results of the consultation to get further treatment directions based on the condition of each patient's disease.
The doctor will prescribe medicine, which is then prepared by a pharmaceutical service facility appointed by the Ministry of Health. Bonny Mateus Anom, Director of PT Medika Komunika Teknologi (KlikDokter) said, "Patients undergoing self-isolation can consult a doctor through the KlikDokter application, thereby easing the burden on patients who accumulate in the hospital". on Tuesday (July 6).
KlikDokter also offers self-isolation packages with vitamin supplements produced by Kalbe. The vitamins given are adjusted to the guidelines of the Ministry of Health, such as multivitamins vitamins C, D, E and B.
Good Doctor App
Good Doctor Application Good Doctor application can be downloaded via Android and iOS. . You can also find these medical services in the GrabHealth app features. Goeie Dokter provides a Covid-19 clinic consultation service that operates 24 hours a day. Covid-19 patients can consult about symptoms and drugs that can be consumed according to the recommendations of the Ministry of Health. 
In addition to drug packages and free consultations, Goeie Dokter also provides a list of vaccinations and Covid-19 tests at hospitals and clinics home service.
This application provides a Covid Care function which includes free 24-hour doctor consultations and drug orders. Like other telemedicine services, Halodoc can also prescribe refillable drugs at MOH referral pharmacies.
Halodoc also has several other features that provide information on Covid-19, Covid-19 tests, Covid-19 self-checks, vaccination lists, and post-vaccination checks.
Clinicgo
This application, which is only available for Android users, is an official partner of the Ministry of Health of the Republic of Indonesia and the National Disaster Management Agency (BNPB). Clinicgo has Telemedicine , where patients can consult a doctor on call 24 hours a day for free. 
If you activate the Isoman feature via clinicgo.com, patients will be asked to upload positive evidence of Covid-19 for a free consultation. Klinikgo also provides home care to do a Covid-19 test at home, so that patients do not need to go to the hospital to reduce transmission. In addition, this application also features a list of Gotong Royong vaccinations for companies.
HealthyQ
This application provides free consultation in times of isoman or condition health other. Patients can be consulted about symptoms, medications or therapy during times of imbalance, as well as prescription medications and vitamins.
For advice, 24-hour service is not available. However, patients can easily see the schedule of doctors who handle Covid-19 problems. SehatQ also provides other information about Covid-19 issues such as symptoms, vaccinations, vaccine eligibility and side effects of the Covid-19 vaccine. All these apps are available for Android and iOS users.
YesDok
YesDok is a telemedicine application that provides consultation through video calls, voice calls, messages and even web consultations. This application can be accessed through the AppStore and PlayStore. If you want to consult a doctor during isomanism , you can enter the ISOMANYESDOK code during registration or register for free access. The free consultation is valid only once per account. For existing users, you can also enter the same invitation code to access the free consultation.
For Covid-19 patients, a special package is offered in the application. Patients only need to click on consultation and the doctor will immediately call for a consultation within 10 minutes.
YesDok only distributes and sends free medicines to Covid-19 positive patients who have been registered in the Ministry of Health system and receive messages through the Ministry of Health's Whatsapp application. If the drug is prescribed outside of a pre-existing package, the cost is borne by the patient.
ProHealth
This app is . Health market What distinguishes it from other telemedicine is that patients do not need to download the ProSehat application to be able to consult a doctor 24 hours a day. Covid-19 patients undergoing isoman treatment can directly consult a doctor via Whatsapp at 0811-18-16-800.
Patients can consult about symptoms and treatment of Covid-19 as well as prescription drugs depending on their medical condition. In the ProSehat application available on the Play Store, patients can take advantage of other facilities, such as Covid-19 testing services, at referral hospitals or visit their homes to register for vaccinations.
Healthy Link
This telemedicine application can be downloaded through the Play Store or the official LinkSehat website. In collaboration with the Ministry of Health and BNPB, LinkSehat provides free consultations with doctors and drug packages according to government recommendations. In addition to Covid-19 patients, LinkSehat also provides consulting services for other health problems, booking appointments with partner doctors and conducting Covid-19 tests.
MILKVIK
MILKVIK is part of BIMA, one of the leading providers of mobile insurance and healthcare in developing countries. This telemedicine application provides free consultations with doctors 24 hours a day. 
Covid-19 patients can talk to their doctor over the phone and get a prescription and where to take it. In addition to consulting services, patients can also find out information about other health problems, laboratories, and the nearest hospital with free insurance for premium customers. MILVIK can only be accessed by Android users. 
Getwell
This application can be accessed by Android users, providing health services and consultation with doctors 24 hours a day. Covid-19 patients being treated for isomanism can consult, diagnose symptoms, guide home care and what medications can be taken. In addition, Gewell provides a swab service ,diet and exercise instructions and provide medical records to patients.
This 11 free telemedicine program came into effect on July 6 in the DKI Jakarta area as a trial. All Covid-19 isoman patients will receive free health consultations and drug packages from the government.
This program was born to reduce the pressure on patients who come to the hospital. That way, hospitals will only use it for Covid-19 positive patients with severe symptoms, congenital disease, or patients with oxygen saturation below 94-95 percent.