In this sophisticated era, there must be a variety of cool and useful applications. One such application is Music Maker App.
This Music Maker application can be used as an alternative when you want to make music but don't have the budget to buy expensive equipment.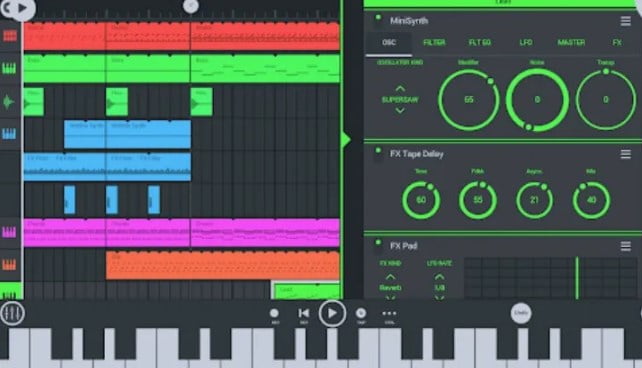 Interestingly, the application can be operated on a smartphone. So it can be used practically anytime and anywhere.
Although it only has an application installed on a smartphone, the application has many functions and the music produced is of good quality.
12 List of Best Music Maker Apps 2022
Here we summarize some Music Maker Applications that can be used on smartphones.
1. Music Maker Jam
As the name suggests, Music Maker Jam can be used for music via smartphones with a fairly easy process.
Users can create their own soundtracks with various loops, beats, and other music sources. Music Maker Jam also has more than 100 music styles and 8 mixer channels.
That way, you can easily mix songs and add effects to the songs you want. Then there's the loop selector for combining different musical styles.
Apart from that, Music Maker Jam also comes with many other cool features which you can use after downloading Music Maker App on your mobile.
2. FL Studio Mobile
Second, you can use FL Studio Mobile. With this music composer app, you can create multi-track projects on your Android phone.
FL Studio Mobile provides everything you need when creating music, including piano roll, keyboard, step sequencer, track editor, and more.
Then you can also use real-time effects to improve the quality of the mix.
In addition, FL Studio Mobile has a wave editor and you can save the resulting music in different formats.
3. Caustic 3
Caustic 3 is also the right choice when you want to make music. With this app, users have 14 synth options to create their own music.
Not only that, there is also an ice mixer with global Delay/Reverb effects, a master section with parametric EQ and a limiter.
Caustic 3 is free to use, but to enjoy all its features, you need to purchase a Caustic Unlock Key.
4. GarageBand
If you're an iOS user, GarageBand might be a great choice for making music on your device. With this app, your phone becomes a collection of instruments and a recording studio that you can use anytime.
GarageBand has lots of cool features, one of which is virtual instruments that can be played with multi-touch gestures.
5. Audio Evolution Mobile Studio
Audio Evolution Mobile Studio is no less good and cool to use for making music. The app can work with users who record audio and can then create loops to mix on different audio tracks.
Audio Evolution Mobile Studio also provides many special effects that can be added as desired.
Apart from that, there are other additional features in this app that support the music creation process. Once the process is complete, the results can be exported and the files can be shared on social media.
6. Walk Band
The next music creator application is Walk Band – Music Studio. This application supports a wide variety of instruments such as drum kits, drum machines, piano, bass and guitar.
There are some standard songs available in this Music Maker App and you can try playing them.
Walk Band lets you record multiple tracks on different instruments and combine different tracks into a single soundtrack. Interestingly, you can use your original recordings as a basis for recording other instruments.
7. BandLab
Next up is BandLab. This application can be used on Android and iOS for users who want to make music with complete features.
With BandLab you can record, edit, and create multi-track music with creative effects. BandLab supports several types of music such as EDM, house, rock, dubstep and many others.
8. SunVox
The last music creator application that is no less good than some of the previous applications is SunVox. There are various tools that will support the process of making music.
Among these are effects consisting of a synth drum, SpectraVoice and many other effects modules.
Each effect consists of various warm and professional sounds, which makes it easy for us to compose songs with high quality.
9. Walking belt
Walk Band is an Android app that puts a portable band in your pocket.
Walk Band Supports instruments such as piano, drum kit, drum machine, guitar and bass.
All instruments use realistic instrument sounds.
This app also has some built-in songs that you can try playing.
With this application you can record multiple tracks on different instruments as well as combine different tracks of a particular instrument into a soundtrack.
What's more, you can use your original recordings as a basis for recording other instruments.
10. Chordbot Pro
Chordbot Pro is a very useful Music Maker App for songwriters. Very useful for dabbling in simple and complex chord progressions.
The app can also be used to experiment and create different chord progressions and then play them back so you know how it turns out.
To create a new progression, simply select a chord, composition style and tempo, then press the "play" button.
This app has 30 styles of praise and more than 50 types of chords for transposition.
When you're done creating, you can export it to a WAV or MIDI file.
Chordbot Pro is available in free (Lite) and paid (Pro) versions.
11. Robot guitar
Guitarist Robot is a guitar and chord guide Android app.
The chord guide has an easy-to-use interface where you can change the chords while playing the guitar.
Choose chords without learning finger positions and simply strum the guitar strings for the instrument's true sound. Robot Guitarist will show you a chart with finger positions for each chord you play.
This Music Maker application is very useful for those who are just learning or who need to memorize chords.
You can choose between acoustic or electric guitar, piano, violin or harp and then pair it with a full guitar or choose different strings.
12. Nanoloop
Nanoloop is a full-featured music maker app that provides all the features you need to create great-sounding electronic music.
You can create your own electronic music arrangements to play at parties, share them on the Internet, or save them for your personal collection.
The Nanoloop offers the possibility of up to 6 active channels, regardless of whether the channel is a synth or a sampler.
In each channel, you can create up to 8 patterns for 2 different instruments, which can be sorted directly in the app.
Nanoloop can also share your projects to Dropbox and SoundCloud.
There you have it, some of the best music maker apps for Android and iPhone that you can choose from. May be useful.