Now in Indonesia, there is a mobile phone credit application that makes it easier for people to buy electronic products in installments. Compared to credit cards, Mobile Installment Application Without DP This has a number of advantages such as installments without a down payment (DP), easy access, long life, easy and fast application, and various attractive and profitable promotions.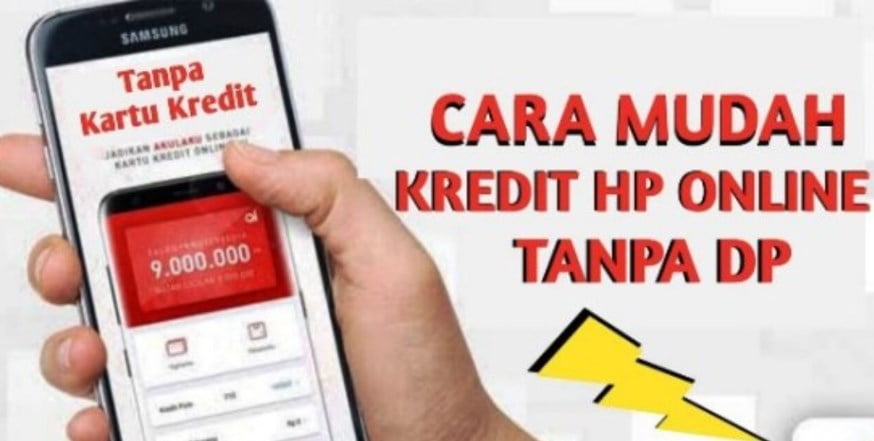 Using the online system, all users can apply for a loan to buy a cell phone anytime and anywhere as long as they are connected to the Internet. The process is quite fast, a few minutes at most. To use it, you can download the app through the Playstore app store and the App Store.
8 Mobile Installment Applications Without DP Easy and Fast
This application offers a number of features that make it easy for users to apply for mobile phone loans without a down payment. You can choose the application according to your needs. Here we have 8 lists of the best Mobile Installment Applications without DP for those of you who want to buy your dream phone.
1. Smart Credit
With Smart Credit, it's easier, faster to borrow cash and can be used to buy new phones. This Mobile Installment Without DP application can be a solution for people who do not have enough money to buy mobile phones in cash. Your dream phone can now be taken home after getting an online loan at Smart Credit. This can be done in installments without a credit card and payment.
One of the advantages of applying for HP credit at Smart Credit is that it is convenient to use, the disbursement process can be done easily, wherever the user is, can borrow money and many other benefits that are very useful from this service. No need to worry because this lending and borrowing service has been officially registered and supervised directly by the OJK.
If you are interested in using the Smart Credit application, you can download the application on Android for free and get a loan limit of up to 20 million rupiah. Make sure you have met the required requirements such as being at least 18 years old, attaching a photo ID and other supporting documents, having a permanent job and other requirements that can be found in full from the application.
2. Credit plus
Initially, this online loan only served financing for heavy equipment, cars, and motorcycles. But now fintech has officially partnered with various services that can provide credit for various types of electronic devices. Such as JD.ID, Elevenia, Pasarwarga and other marketplace sites that are widely used by the public.
There are several services and credit terms offered by this application ranging from 3 months to 12 months. The user can activate the credit limit and then decide which store is the Kreditplus partner to start the transaction. Next, you can buy the desired phone. Not long after, the new cell phone can be immediately brought home. Now the Pulsa Plus service is available throughout Indonesia.
You can also apply for a loan without a down payment as long as you meet the requirements such as having an e-KTP, an active number and email, as well as a permanent job with a minimum income of 3 million rupiah per month. No need to hesitate to use Kreditplus to get your dream phone, because many other users have trusted and chose it as the best loan application.
3. Indodana
The next mobile application without a down payment is Indondana, which you can use when you want to buy a new cellphone but don't have enough money. Indodana helps you pay on credit with a maximum limit of 6 months. This condition applies to all brands of mobile phones, so borrowers can repay them faster.
Requirements for credit at Indodana are Indonesian citizens with a maximum age of 21 years, have an ID card and a permanent job, have an internet bank account and attach a selfie photo to the application. If these requirements are met, the money application will be processed in no time.
4. Kredivo
Kredivo is an instant credit solution that makes it easy to buy goods without having to pay first. The entire loan application process in this application is done online, so users do not need to print physical documents that take time, money and effort.
Three payment periods are offered to the public, namely 3 months, 6 months or 12 months with an interest rate of less than 3%. Only your KTP capital can get the basic transaction limit. Kredivo is also very safe to use and protected from hacker attacks.
5. Akulaku
Do you want cheaper mobile rates? You can choose the Akulaku No DP Mobile Installment Application which offers payments for 30 days or installments of 3 months, 6 months or 12 months. To use it, you need to download Akulaku on the App Store and Playstore. Then register and verify the requirements needed to get credit.
Loan applications will be processed within 24 hours and without surveys, so you can get money faster to buy a new phone. Some of the advantages of this credit are the limit which reaches 9 million rupiah and can be used for various needs. Akulaku is safe and reliable, so you don't have to worry.
6. My Home Credit
One of the fintechs that provide the best online credit and loan facilities in Indonesia is My Home Credit, which has partnered with many large mobile phone shops. This service makes it very easy for people who want to get extra money to buy the desired cellphone. The system is also online, so you can apply anytime and anywhere.
Some of the advantages of the My Home Credit feature are access to real-time contract and installment information, product installment simulations, special offers, promotional messages and announcements, payment status, personal data changes and various other features that make it easier for users to borrow money.
7. Adira Finance
Multifinance company Adira also provides credit without having to pay a down payment. This financing program is aimed at people who have limited capital so that they can still buy it. At Adira Finance you get financing ranging from 1 million rupiah – 100 million rupiah. In addition to buying a cellphone, you can use this loan money to buy sports equipment, computers, furniture and so on.
8. FIF Spectra
FIF Spectra is the last HP-Free Installment Application from our recommendation that can also be used to finance the purchase of household furniture. FIF Spectra products are available in most furniture, electronics, mobile and gadget stores throughout Indonesia. To apply for a loan, first come to a mobile phone retailer who has partnered with this service. Then enter the application and wait for 1×24 hours to receive information whether the application is approved by FIF Spectra.
9. OVO Pay Later
OVO PayLater is a non-credit card payment facility that you can use to transact on the Tokopedia site/application and other OVO partner locations. By using OVO PayLater, you can borrow in installments because you can buy it now and pay it later when it is due according to the tenor.
PayLater has tenors ranging from 3, 6, to 12 months
One of the advantages of OVO PayLater is that it can be used as a payment tool on Tokopedia. If you want to pay in installments without a credit card on Tokopedia e-commerce, you can use OVO PayLater. But remember, the maximum limit for OVO PayLater is IDR 10 million.
Here are the recommendations for 9 HP Installment Applications Without DP in Indonesia that can help you buy this electronic product in installments. Use responsibly and pay on time so there are no problems in the future. Good luck.