Welcome to Catalytic, a blog to discuss the discussion of subject matter from Higher Education, High School, Middle School and Elementary Schools. This time, Katalistiwa will discuss a question that is often asked in school exams. The questions are: Main Activities of Trading Companies Are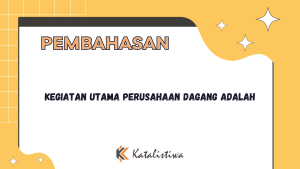 Main Activities of Trading Companies Are
a. buy merchandise
b. make and sell merchandise
c. buy and sell merchandise
d. buying raw materials and making merchandise.
e. selling all kinds of merchandise
Answer :
So, the main activity of a trading company is c. buy and sell merchandise.
Let's Discuss the Problem of Trading Companies
Trading company is company whose activities are buying and reselling goods without first making changes to the goods
Trading Company Transactions
Transactions Transactions that are usually carried out by trading companies are as follows:
Purchase goods on credit

Buy items in cash

Return of goods

Get a purchase discount

Pay or accept shipping costs purchase

Selling goods on credit

Sell items for cash

Receive returns on goods sold

Give a sales discount
Trading Company Accounting
Trading company accounting has the following characteristics:
Use the merchandise inventory account.

There is a calculation of the cost of goods sold. In trading companies, gross profit is obtained by finding the difference between net sales and cost of goods sold. To get net profit, gross profit is reduced by operating expenses.

Income statements can use single step (direct) and multiple step (gradual) forms.
Question Details
Class : 12
Course : Economy
Chapter : 5. Compilation of the Accounting Cycle in Trading Companies
Keywords : trading company, main activity
This is the discussion that we have summarized by the Katalistiwa.id Team from various learning sources. Hopefully this discussion is useful, don't forget if you have other answers, you can contact the admin. Thank you