Rice plants it is the origin of rice. Rice is the main need of the Indonesian people to meet their carbohydrate needs. People are so dependent on the need for rice or laughter, that causes rice or laughter to become a very big need and must be satisfied. Suitability and success of rice cultivation is a determining factor in meeting the needs.
Without rice plants, people can no longer eat rice. Therefore rice cultivation must continue to be developed by Indonesian rice farmers. How to grow rice is good and profitable, besides the value of its needs, rice plants also have high economic value. As people already know, the price of rice is very high and it is certain that it cannot be sold. Therefore, it is hoped that more and more farmers will develop this rice cultivation.
How to grow rice is good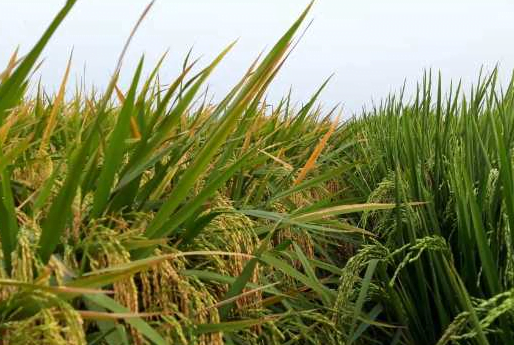 To get quality rice plants, of course, you need a good and correct way of planting rice and the planting process that must be considered in planting rice plants. Here are some steps on how to plant rice that must be considered so that the method of cultivating rice to be harvested is as follows:
Preparation of seedling media
Seedling media for planting rice must be prepared at least two weeks before planting. Preparation is done by cultivating the soil as a planting medium. The land must be guaranteed free from weeds and weeds. Do not disturb the growth of rice plants because they have to share nutrients and water with weeds. If free of weeds, moisten the soil with water and then do the plowing. Plowing is done to prepare the soil to be soft and loose and suitable for planting. In this modern era, piracy is no longer done with a hoe, but by using a cow or a tractor. After going through piracy, rinse the planting medium again with water. Water is given in large quantities to cover the entire field with a height of up to 10 cm. Let the water in the planting medium continue to stagnate. Stagnant water for two weeks will cause the planting medium to become cloudy and the poison can be lost because it is neutralized.
Seed selection
The seeds must be tested first to know the quality. The test was carried out by immersing about 100 rice seeds in water. Check the seeds after two hours. The way to plant rice seeds is to examine the seeds by identifying changes in the seeds. If the seeds that sprout are more than 90 or more than 90% of seeds that sprout, it means that the seeds are of very good quality and of high quality. Naturally, these superior and high quality seeds are suitable for cultivation. Meanwhile, if the seed does not have the above signs, it means that the seed is not recommended for cultivation. After determining the seeds that will be used as seeds, the nursery can be prepared immediately.
Nursery
Nurseries are carried out after superior seeds have been determined. These superior seeds will then be sown in nursery containers. Nursery containers must be prepared in advance. The need for containers for nurseries is given in a ratio of 1:20. For example, if you are going to use 1 hectare of rice fields, then the area of the nursery will be around 500 m.2. The soil in which the nursery is located must also be watery and muddy. Apply urea and TSP fertilizer to the nursery at the rate of 10g per 1m each2. When the seedling is ready, spread the germinated seeds evenly.
Planting
The planting process is carried out after the seeds grow three to four perfect leaves during the nursery process. The period from nursery to seedlings ready for planting is usually around 12-14 days. When you are ready to plant, transfer the seeds from the nursery to the planting area. Separation is done carefully and does not harm the plants. Sowing is done in the planting hole that has been prepared. Especially for rice plants in one hole can be planted two seeds at once. Sowing is done by inserting the roots to form the letter L so that the roots can grow perfectly. The depth of the seeds planted is determined to range from 1cm to 15cm. It is better to plant rice twice a year based on the ideal planting time.
Soil care
steps how to plant rice - Treatment is carried out in three ways, namely weeding, watering and fertilizing. Weeding is done by keeping the soil free of weeds. Weeding should be done regularly every certain period. It can be done every two weeks or three weeks. Irrigation is given as needed. As with other plants, make sure there is no water or standing water. The first fertilization is done after the rice plants are one week old. The type of fertilizer given is urea fertilizer at a dose of 100 kg per hectare and TPS fertilizer at a dose of 50 kg per hectare. Subsequent fertilization is done after 30 days to 35 days after planting. Reapply with urea fertilizer at a dose of 50 kg per hectare and Phonska fertilizer at a dose of 100 kg per hectare.
Prevention of pests and diseases
Pests and diseases can be prevented by using pesticides.
Harvesting
Harvesting is done with signs that the rice has yellowed and sagged. Use a toothed sickle to harvest and place the harvest on the carpet cleaning the rice from any existing rice grains.
Like thishow to grow rice right sequentially. If rice planting is done properly and correctly, the results will be satisfactory and profitable. To do this, sprinkle rice properly
TYPES OF RICE: HYBRID RICE VARIETIES
Hybrid varieties are rice varieties that are only planted once. Varietal advantages hybrid rice is maximum yield potential. Yields can be up to twice that of local rice. The grain of rice produced is better, with a softer and tastier quality of rice.
However, the hybrid variety itself has a weakness, namely the quality of the yield will be significantly reduced if it comes from a hereditary plant. This means that the rice must come from the original seed, because if it is then planted, the result will be different from the original seed. The price of this type of seed variety is among the most expensive.
Closed hybrid rice varieties in Intani 1 & 2, Rokan, SL 8 & 11 SHS, Soon Child, PP1, H1, Bernas Prima, SEMBADA B3, B5, B8 AND B9, Long Ping (erfenis 1 & 2), Adirasa-1 , Adirasa -64, Hybrid R-1, Hybrid R-2, Manis-4 in 5, Hipa4, Hipa 5 Ceva, Hipa 6 Jete, Hipa 7-10 11, MIKI 1-3, SL 8 SHS, SL 11 HSS brown color . . . .
RICE TYPES: SUPERIOR RICE VARIETIES
This superior rice variety is one level below the hybrid variety. This type of variety can be planted more than 2 times with the same quality. This means that superior varieties of rice plants can still be used as seeds.
The price of superior quality rice seeds is not as expensive as hybrid rice seeds. Superior rice production can also be said to be good, reaching 8-10 tonnes per hectare.
Alcuni esempi di varietà in riso superiori including Inpara 1-8, Inpago 1-5, Inpari 1-21, Inpari 31, Inpari 33, Inpari 34 Copy Agritan and Inpari 35 Copy Agritan.
There are also superior rice varieties developed and released by the government, such as Inpari 34 and Inpari 35. The advantage of these varieties is their resistance to brown planthopper pests.
TYPE OF RICE: LOCAL RICE VARIETY
Local rice varieties are rice varieties that are specific to certain areas. This type of variety is only suitable for planting in certain areas, because it requires special specifications to grow and produce rice.
So, that's a good way to plant rice, which I can explain to you, hopefully it will be useful.