Welcome to Catalytic, blog to share questions about Education. This time we will answer questions and at the same time we will discuss the following questions: State the Purpose of the Rule of Law in General!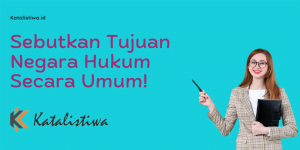 State the Purpose of the Rule of Law in General!
Here are the answers to the two questions above: The Purpose of the Rule of Law in General!
General purpose of State law is to protect human rights or human rights.
The two most basic reasons why the law is important in social life is that the law is capable create order and the law can to uphold the truth so that justice can come true in the social order.
Discussion of the Purpose of the Rule of Law
State law is a state in which all forms of the administration of government power are based on legal norms. Referring to Jimly Asgghiddique's opinion, law interpreted as a form of state in which all intents in it are based on law. The distinguishing feature of this legal state is the system above which is occupied by the constitution, in this case in Indonesia the constitution is the Constitution of the Republic of Indonesia. Indonesia 1945 which is often abbreviated 1945 Constitution
the characteristics of the rule of law In Indonesia are as follows:
The source of the law is the basis of the state or Pancasila.

The highest sovereignty is in the hands of the people.

Government based on the constitution.

There is equality before the law and the government.

The judiciary is free from the influence of other authorities or institutions.

Laws are made by the President together with the House of Representatives (DPR).

MPR system adopted.
 Detailed Answers Rule of Law Goals
Class : High School
Maple : PPKN
Chapter : Rule of Law
This is the discussion that we have compiled from various sources by the Katalistiwa team. May be useful.