Welcome to Catalytic, blog to share questions about Education. This time we will answer questions and at the same time we will discuss the following questions: What is the reason for Pattimura's struggle?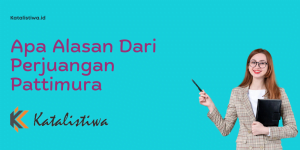 What is the Reason for Pattimura's Struggle?​
The reason underlying Pattimura's struggle was the arbitrariness of the Dutch against the Moluccan people by forcing them to sell spices cheaply to the Dutch, and even plundering the Moluccan people.
Discussion of the reasons for the struggle of Pattimura
Kapitan Pattimura or also known as Pattimura, is known as a valiant hero against the Dutch colonies in Maluku.
Here are some things about Pattimura, namely:
Pattimura or real name Thomas Matulessy was born in Saparua (Maluku) on June 8, 1783. Pattimura is a descendant of royalty from King Sahulau, a kingdom in South Seram Bay. His father's name is Frans Matulessy and his mother's name is Fransina Silahoi. The following is his struggle against the Dutch, namely:
The Dutch forced the Moluccans to sell them spices by price cheap and even rob Moluccan crops.
In 1817, the Moluccan people's resistance led by Pattimura succeeded in capturing Duurstede Fort in Saparua. Pattimura's resistance extended to Ambon, Seram and other places.
Because of urgency, the Dutch finally asked for the help of troops in Jakarta. The situation turned around, the Dutch were getting stronger and the people of Maluku were under pressure. Finally Pattimura was captured by the Dutch. On December 16, 1817, Pattimura was sentenced to death by the gallows.
To commemorate the services of Kapitan Pattimura, on November 6, 1973, the Government of Indonesia ratified and established Kapitan Pattimura as a national hero.
The answer details for the struggle of Pattimura
11th class
Maple: History
Chapter: The National Struggle in Indonesia in the Early Stage
This is the discussion that we have compiled from various sources by the Katalistiwa team. May be useful.