Welcome to Catalytic, a blog to share questions about Education. This time we will answer questions and at the same time we will discuss the following questions: Explain the Types of Music in Dance Accompaniment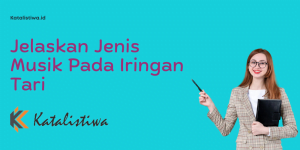 Describe the type of music in dance accompaniment
In the implementation of a dance work, one of the most important supporting elements is the dance accompaniment. in a dance accompaniment, The following is kind of music which can be used:
Built-in music: the type of dance accompaniment produced by the dancers themselves. Examples of internal music are dancers singing to create a beat or dancers clapping their arms to create a beat.
External music: the type of dance accompaniment produced by parties other than the dancers. An example of external music is the use of a tape recorder to play some music or an ensemble musician playing some music as dance accompaniment.
Discussionand Types of Music in Dance Accompaniment
Dance accompaniment is one of the supporting elements in dance performances. music The dance accompaniment will be related to the tempo or speed of the dance movements performed by the dancers dancer. Dance accompaniment can also create an atmosphere in accordance with the theme or concept presented in a dance work. When the dance accompaniment is fast, the dancers will also display their dance moves quickly at that tempo. The opposite also applies if the dance accompaniment is slow.
Answer Details Types of Dance Music
4th grade
Subject: Cultural Arts
Chapter : 5 - Archipelago Dance
This is the discussion that we have compiled from various sources by the Katalistiwa team. May be useful.