Welcome to Catalytic, a blog to share questions about Education. This time we will answer questions and at the same time we will discuss the following questions: Explain the Two Conditions for the Occurrence of Social Interaction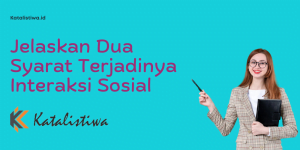 Describe the two conditions for social interaction to occur
Answers to the questions above: Requirements for Social Interaction
There are two conditions for social interaction to occur communication and social contact.
Discussion :
Terms of Social Interaction
Social interaction is a reciprocal relationship between individuals and other individuals or groups. Social interaction is a process of influencing individual or group actions through symbols and language.
Social communication is a fundamental aspect of humans as social beings because humans cannot live without other humans Public.
Interaction occurs when there is communication and social contact.
Communication is the delivery of messages from one person or group to another. Communication allows interaction through the exchange of opinions, ideas, needs and allows the attitudes and feelings of a group of people or individuals to be known by other groups.
Interaction creates interaction when there is social contact or relationship between groups and individuals in society. Contacts, for example meetings or buying and selling transactions. Social contact does not have to be physical, but can be done through means of communication, such as the telephone and the internet.
Answer Details: Conditions for the emergence of social interaction
Class: VII
Subjects: IPS
Material: Chapter 4 – Dynamics of Human Interaction
This is the discussion that we have compiled from various sources by the Katalistiwa team. May be useful.