Now you can create and design brochures and the like anytime and anywhere with ad design app your smart phone. Not only is it easy and fast, you can also directly share the interesting brochures that you made on social media accounts. Thus, the job of distributing data or advertising becomes simpler.
If you want to be more secure and reliable, you can create a brochure on a PC that offers a wider view. By using several excellent applications, you have been able to create reliable brochures, especially for the industrial level. Here are some popular applications and applications for creating brochures that you can use on your cellphone and computer.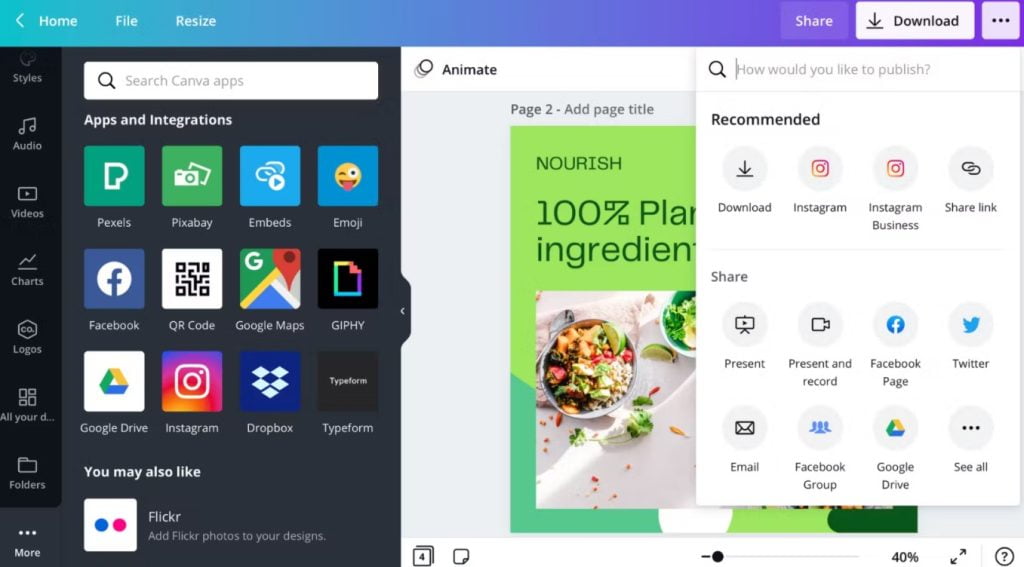 10 Simple And Easy Ad Design Applications
1. Canva
Canva is one of the best places to create brochures that you can download and install on your Android or iOS device. You can use this application for free, but you can switch to the Pro type or buy some paid items in it if needed.
Not only can you design brochures from an early age according to your wishes, you can also use existing free templates. Thus, your work can be more easily completed. Once again, Canva also provides many paid templates with cool designs.
The Canva ad design application is also available in a website type that you can access via a PC screen. Thus, the work of creating and designing brochures becomes easier. However, if the brochure is only for posting on social media, the mobile type of Canva can be very helpful. Download the Canva app here (Android) and here (iOS) or visit this link (website).
2. Flyers, Poster Maker, Graphic Design, Banner Maker
This brochure making application is suitable for newcomers who do not have the ability to design. That's because the application Flyers, Poster Maker, Graphic Design, Banner Maker offers several conveniences for its users. It has lots of templates, creative stickers, reading art, and various easy-to-use shapes.
The features it offers are also quite a lot. Moreover, the templates that it offers you can also choose according to the field you are working on. That way, you don't have to bother looking for the right design inspiration for your brochure. There is also a paid type for more reliable features. Click here(Android) to download this app.
3. Adobe Spark Post
This service from Adobe is also very suitable for making reliable brochures and the like. With just a few taps, you can turn an image into a cool brochure or poster. Improving reading and practicing filters for attractive graphics is easy to do with Adobe Spark Post.
As a product from an industry that is already reliable in its field, Adobe Spark Post is actually equipped with a variety of interesting features that can help make your work easier. If interested, join the millions of other people who are already using this app here (Android) and here (iOS).
4. Desygner
This is one of the best brochure builder apps that you can try on Android or iOS. With millions of layouts and hundreds of thousands of new users every month, the Desygner app offers many very useful advantages, one of which is providing reliable photos that are free to use forever!
Not only does it offer free services with a variety of interesting features, Desygner also offers paid plans for more reliable work. You can subscribe monthly to $14 or yearly to $95 to be able to use all the best features it has. Quickly download the application here (Android) and here (iOS).
5. Brochure Maker- Pamphlets, Infographics, Catalogs
The Brochure Maker, Poster Maker, Graphic Design ad design application offers a simple interface that makes it easy for new users who want to create reliable looking brochures. In this application, there are many options for brochure templates, cool stickers, various types of fonts, to reading effects.
You can create brochures of various businesses with this application, including food and restaurants, travel, clothing, beauty, and many others. This actually helps make it easier to find a brochure design that suits your business. You can shift to the Pro type for more and more complete services. Download this app here(Android) and here(iOS).
6. Poster Maker- Poster Design, Flyer Maker&AD Maker
Poster Maker- Poster Design, Flyer Maker & AD Maker is an application for forming posters, brochures, and so on that offers convenience in the process. In just a few clicks, you can change an ordinary poster or brochure to be more creative with this all-in-one application.
Some of the great features of this app are having more than 100 backgrounds for your brochures, allowing you to create custom backgrounds, advanced editing tools, and much, much more. You can download this brochure builder app here(Android) and here(iOS).
7. Adobe InDesign
The reliable designer group is certainly familiar with the Adobe Creative Cloud software. Well, Adobe InDesign which is part of the application is also a tool for making the best brochures that you can use. With a reliable tool, of course the results will also look reliable.
Some of the advantages of Adobe InDesign which is an industry standard design tool include good integration with Creative Cloud (such as Illustrator, PhotoShop, Acrobat, etc.), configurable paragraphs & personality traits, advanced font and color management, and so on.
One of the drawbacks of Adobe InDesign is that the subscription fee is quite expensive, so it is not suitable for use by those who want to make brochures once in a while.
In terms of system requirements, you don't really need a sultan's computer to run Adobe InDesign. Not bad with a minimum CPU Intel Pentium 5 or AMD Athlon 64, InDesign can be run quite easily.
But this will definitely come back to necessity, because if you edit a brochure with a lot of gardens or layers, you definitely need a lot of RAM. At least you need 4 GB of RAM, but just in case a computer or laptop is better to use 16 GB of RAM. As for the remaining storage, the application only requires 3.6 GB and it is recommended to use an SSD. Have this app here.
8. Scribus
Scribus is a free ad design application that you can use to make good brochures. Although not as good as the paid Adobe, this one software still offers an impressive set of features for creating and designing a brochure.
Some of the advantages of Scribus not only being free is having good layout tools, configurable paragraphs & personality styles, supporting industry standard layouts & measurements, and much more. On the other hand, one of the biggest drawbacks of this application is that it is quite difficult to learn.
It only takes a laptop with lightweight specifications to be able to do it. With a minimum of Windows 2000 (or above), a Pentium III processor, and 512 MB of RAM, you can already create brochures using Scribus. But of course, if you make a complicated and heavy brochure, you need even greater specs. Have this app here. As long as this post is written, the stable type to use is Scribus 1. 5. 6. 1.
9. Inkscape
Like Scribus, a vector art editing program that uses the SVG standard as the original file is also free for you to use. Not only that, both Scribus and Inkscape are both open-source programs. However, because Inkscape only supports SVG standards, this application only supports one garden or canvas.
Some of the advantages possessed by Inkscape include supporting industry standard measurements and garden dimensions, exporting high-quality PDFs, and of course being free to use. While the drawback is that it does not support the work of making brochures like InDesign or Scribus, but you can always use them.
When compared to Scribus, this Inkscape application is even lighter, aka only requires a minimum of 256 MB of RAM to be able to do it. As for the CPU, as long as it has a clock speed of 1 GHz until the application can be used. Have this app here.
10. Microsoft Publisher
Well, this one application of course you know pretty well. Although it is quite difficult to call it one of the best, Microsoft Publisher is always a reliable design tool.
That's our explanation of the best ad design application with a number of conveniences for its users. The support of pal catalysts increases our enthusiasm to provide other quality and useful articles. Thank you