With the changing economic conditions, financial analysts are needed to anticipate negative risks. From how to manage finances to planning a business strategy, financial analyst skills will always be needed, you know. Curious about this profession? Come on, take a look at Glints' summary of financial analysts below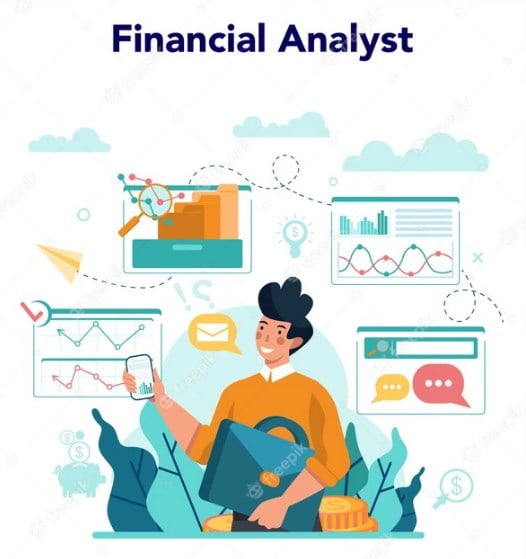 What is a financial analyst?
Working in a financial institution is the desire of many people. However, financial institutions is a very competitive industry and it can be difficult for beginners to get started in the field. In the financial services industry itself, one of the most sought after careers is the analyst profession.
Their primary role is to research data to identify opportunities or evaluate outcomes for business decisions and investment recommendations. It can be said that this job is the most popular career path in the competitive industry. Adapted from Wayup, a financial analyst is someone who makes business decision recommendations for an organization.
This is done on the basis of an analysis of several factors that have a major influence on business development. Important aspects such as market trends, company's financial situation and the expected results of certain types of transactions are their daily snacks. In addition, financial analysts must research macro and microeconomic conditions to make predictions about changing business trends, financial strength of a sector and industry.
They are also required to recommend actions or transactions that will support business development, such as buying or selling shares in the company based on their overall performance and outlook. Not all financial analysts analyze the stock or bond markets, nor do they help their bosses invest.
Companies can also hire a financial analyst to process numerical data to show the quality of the various marketing strategies that have been implemented by the company. Companies with various franchise branches usually have a financial analyst who is responsible for observing the performance of each franchise.
Next the analyst will determine the location of the franchise's strengths and weaknesses and will make a profit and loss forecast.
Responsibilities of financial analyst
As already explained, the job of a financial analyst is to provide an estimate of the company's future income and expenses. The job description of a financial analyst is also related to research and techniques for reporting financial information, as well as monitoring trend movements in the market.
According to Robert Half, these are the responsibilities of a financial analyst:
Analyze the company's financial data from the newest to the oldest.
Visualize and identify the development of financial trends in the market.
Prepare a report on the results of the analysis and present the results of the report to the board of directors.
Consult with the management team to develop a long-term business plan.
Suggest budget changes and increase capital based on research results.
Exploration of various investment opportunities for business development.
Develop a financial model and provide an estimate of income and expenses.
Develop initiatives and policies that can drive financial growth.
Financial analyst skills and qualifications
Given the responsibilities and roles that are small, it is clear that the financial analyst profession is a field that requires candidates with certain criteria. Not only economists, but potential financial analysts must also be adept at turning trends into business development strategies.
Below is a list of skills and qualifications that a financial analyst must have:
1. Educational background
Being a profession engaged in finance, it is clear that this job requires people with economic backgrounds.
Having a lot of knowledge about economic concepts and managerial strategies is the main qualification to become a financial analyst. Therefore, financial and banking institutions only accept applicants with degrees in economics, management, or statistics.
2. Quantitative research skills
As the title suggests, the main task of a financial analyst is to analyze economic developments and see trends that can harm the company.
Well, the analytical technique that is often used is to conduct quantitative research. Not only that, this skill also works when analysts have to process numerical data before making the best business development decisions. That said, the life of a financial analyst will always be close to numbers. Therefore, it would be impossible if they did not have quantitative computational abilities.
3. Problem solving skills
As the main line of financial institutions in responding to the risk of loss, Investopedia launches, a financial analyst must have problem solving skills.
Not infrequently, the plans that have been built will change due to fluctuations in the economic market. Likewise with miscalculations that can damage the entire project provided. Working in finance has many risks. A good financial analyst is able to adapt and successfully solve all problems.
4. The ability to speak in public
As a financial analyst, reports must be immediately submitted to the board of directors and other interested parties. Therefore, one of the skills that must be possessed by financial analysts is the ability to speak in public spaces. They need to be confident when they want to convey research results so that all the details of the analysis are conveyed correctly to their superiors.
Not infrequently they also have to hold seminars for other office staff about the development of economic markets. Make sure you have above average public speaking skills before starting a career as a financial analyst