Are you looking for Comic Maker App on Android for smartphones? The following article will hopefully help you find it.
For comic book fans, have you ever wondered how to make one? Generally, cartoons are made by drawing directly by hand first. Then refined through the computer.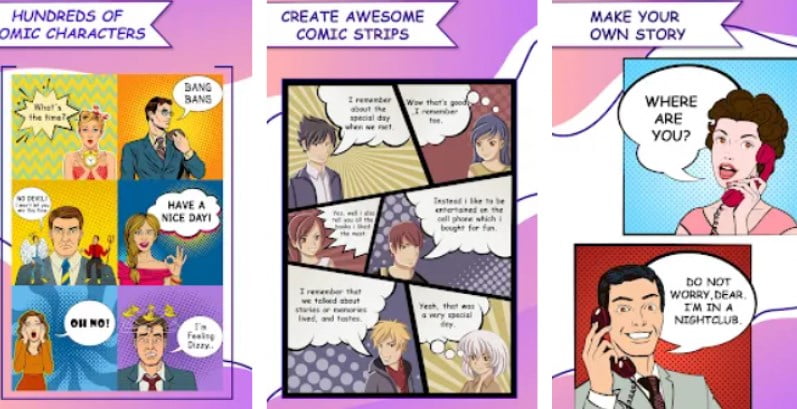 13 Coolest Comic Maker Apps on Android
But now making comics can be easier. Even if you are a beginner, with just your smartphone and the following Comic Maker Apps, you can create cartoons ranging from simple to cool.
1. Comicker – True Comic Maker
Comicker – The Real Comic Maker is one of the best Android apps that can be an option for creating comics on your smartphone. The reason is, this Comic Maker Application provides more than 6000 images ranging from characters, backgrounds and other objects that may be needed by the creator.
Although the function is very complete, this application actually has a fairly light memory and is not burdensome when working on a smartphone.
Not only image features, there is also an Audio Record feature in this application so you can make cartoons with the sound of your own voice.
You can choose from a variety of interesting themes such as action, manga, fiction, adventure, or animal themes when creating comics using the Comicker app.
This app is perfect for novice cartoonists because it's very easy to use, you just need to choose the layout you want. Then add characters, backgrounds and various other objects as you need.
Then enter the dialogue text in the "speech bubble" or you can use your own voice recording in the cartoon. Well, there he is! Easy?
2. Comic Strip It (Lite)
If you are tired of mediocre pictures, it's time to turn your pictures into talking pictures with the Comic Strip It (Lite) application.
This app helps you to create cool cartoons with the stories you want. You can use photos and images from the gallery, or take photos spontaneously through the smartphone camera.
Adjust the position and size of the image. Then add a caption, title, or speech bubble to the image. Don't forget to add effects to make the photo look more interesting.
There are several choices of comic effects that you can choose from, ranging from ComicBook, Cartoon, Superheroes and many more. Once the cartoon is done, you can share it on social media directly from the app.
There are two versions of the application, namely the Lite version which can be downloaded for free and the Pro or paid version.
3. Bitstrip
The Bitstrips app allows you to draw someone's face or create your own cartoon.
For those of you who like to express emotions or status on social media through the display of attractive comic images, this application is suitable for reference.
This application is quite popular, as can be seen from the number of downloads that reach more than 10 million users from all over the world.
Launched in December 2012, this application provides a wide selection of cool Status Comics such as Good, Crazy, Bad, Weird, Miscellaneous and many more.
Users can also add balloon text to comics to make photos or images speak. You can also be the main actor in a cartoon created using your own avatar.
Be sure to select the appropriate attributes so that the cartoon the actor is playing is similar to yours. There are more than 1,500 different comic scenarios that you can choose according to your taste.
The size of this application is about 50 MB and can be downloaded on the Play Store for Android users or the App Store for iOS users.
4. Comicsat – Funny memes and comics
This Comic Maker App comes with a feature that allows users to create comic memes from photos. You can edit the image first before changing the hair color as you wish.
If the image or picture feels right, you can add text, stickers, or funny emoticons to it. You can also create comic memes from 2 images to form an interesting short story with this app.
The app has a clean look and simple navigation, which makes it quite easy for beginners to use. The app size is small and light, so it works well even on low-spec phones.
5. Comic Creator
Comic Creator is an Android comic maker app developed by Eper Apps. With this app you can create simple and fun cartoons in just a few steps.
The method is very easy, you only need to specify the number of panels and select the available meme cartoon images. Then put the story into the word bubble. If there is an error, you can return to the previous form using the Undo feature in the app.
You can also include more choices of avatars, backgrounds, and bubble words to make the comic look more interesting.
Before publishing, you can save it as a draft and continue editing at a later time. This Comic Maker App is very simple and easy to use. You can save ready-made cartoon images in the smartphone gallery in PNG format.
6. Comic Page Builder
If you prefer comics in the form of cartoons instead of memes, try using the Comic Page Creator Comic Maker App. You can make funny cartoons with this application.
You can adjust the character's body movements and facial expressions as you wish. Not only that, you can also set the number and size of comic panels.
As well as the addition of characters and dialogue text in comics. Don't forget to share your comics on social media!
7. Name of manga
Do you like Japanese manga comics? This Comic Maker App is perfect for you to install. MangaName is one of the best manga style comics that we can get for free from Playstore.
By using this application we can draw our own anime manga characters, if you are creative enough, various types of characters can be made from the drafts that are already available in the application.
We can also add text, speech bubbles and other properties to bring manga comics to life. This application is also very light and can be used offline.
8. How to Draw Anime and Manga
The advantage of this application compared to other cartoon makers is that there is a drawing guide as your tutorial when creating characters in comics.
There are various tutorials such as how to draw cartoons, draw anime, manga, make animal drawings and many other character drawing exercises.
The included tools are also quite complete and adequate, making it easier for users to draw even if you are a beginner.
9. Rage Comic Maker
With this Comic Maker Application, you can easily create comic memes. A number of appropriate features are also available in this Rage Comic Maker application so you no longer need to use a PC or laptop when you want to draw comic memes.
10. Comic Doll Line
Comic Puppets Line is another application that you can use to create comics on Android. You can customize the image of the character you want, from choosing a character, to changing the poses of the head, body, hands, and feet of actors in comics.
Interestingly, you can also combine cartoon characters and their own faces in one panel. Then add the desired word balloon and enter the story text in it. Interested in trying it? You can download this app for free on the Play Store.
11. Comicize – Comic maker
This one app allows you to create cartoons from your own photos, which are then combined into strip panels.
You can make cartoon stories about everyday life from these pictures. Also integrate filters and effects to make your photos more interesting. There are more than 24 effects or filters that you can choose as you wish.
For those of you who like selfies with different facial expressions, this application can be quite interesting to try, we can make cartoon characters from pictures of our own faces, guaranteed fun!
Here are 10 Android Comic Maker Applications that can be your reference when you want to make cartoons through your cellphone. You can also become the cartoonist you know with the above application. I prefer comics with humor or satire themes. How about you? What cartoon theme do you like?